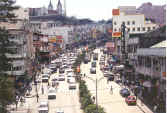 Baguio City is the summer capital of the Philippines. Located in northern Luzon, Baguio City was established by the Americans in 1909, It is sited about 1,500 meters above sea level, high in the Cordillera mountain range giving the city an almost temperate climate.

Baguio is a favorite vacation destination of Filipinos & foreign tourist specially during summer because of its year-round cool climate. It is also known as an educational center with its 4 universities and several colleges and institutes in Baguio City's 49 square kilometer area.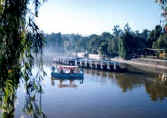 The centrepiece of Baguio City is the Burnham Park which features a rectangular lagoon and open fields. The eastern part of the city is dominated by high-class residential areas surrounding the Camp John Hay, a former American military recreation zone now turned into a tourist residential-commercial area.

Places of Interest:

Baguio City Cathedral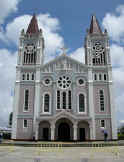 is a majestic church built on top of a hill, and is seen from many parts of the city. On the right side of the cathedral is Session Road. It is the main avenue of the city and is its commercial center. Along the main street and side streets are numerous shops, restaurants, and billiard and duckpin bowling alleys. Session Road is also the place visited by foreign tourists who wish to enjoy the city's nightlife.

Mines View Park, located at the extreme northeast of Bag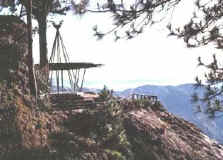 uio City boasts a spectacular view of Benguet's gold and copper mines.

Camp John Hay, once a military recreational camp of the Americans during World War II is now a popular tourist destination for people who wish to see the pine forests in Baguio City. It also boasts of a sprawling country club with a full 18-hole golf course as well as many trendy restaurants and a rather nice hotel called The Manor.

Itogon Wood Carver's Village - fills three kilometers of independent indigenous wood carvers. The works of these carvers range from very small figurines to huge statues.

The Orchidarium is a showcase for the various breeds of flowers and plants that are grown in the region.

The Mansion House -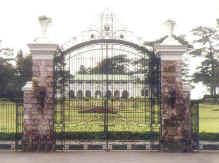 the official summer residence of the President of the Philippines. One can leisurely stroll around its manicured lawns.

Baguio Botanical Garden - also known as the Igorot Village contains many Igorot houses amidst various flora and fauna that grows in the cool climate of the city. Tourists can usually take pictures with the Igorot tribesmen dressed in their traditional costume.

Mary Knoll Ecological Sanctuary is a haven for free minds and bodies. The Eco-tour refreshes the eyes with nature's feast of flowers. The gallery inspires one's creativity.