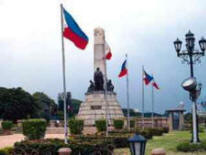 Manila is the capital of the Philippines, it is a vibrant metropolis. It is a hodgepodge of old and new buildings, Despite pockets of poverty, Manila is one of the most cosmopolitan cities in the world and its metropolitan area is the country's economic, cultural, educational, and industrial center. Manila host many prestigious universities and centers of learning including the University of Santo Tomas, Southeast Asia's oldest university.

Manila is almost synonymous to Metro Manila, which actually comprises 17 cities and municipalities with over 10 million residents. It is considered one of the mega-metropolis of the world. Centers of Business are the Binondo district, the Makati business district and Ortigas Center.
It can be overwhelming to first timers, especially to tourist who can't wait to leave Manila's chaotic traffic, heat and pedestrians. But spend a little time and discover the little secrets of the city and the friendliness of the people.

Shopping in Manila is a way of life. Almost everywhere you go are stores, shops, boutiques from the small corner store to the giant malls that you can find almost everywhere you go in Metro Manila.

The walled city of Intramuros is a must see for tourist.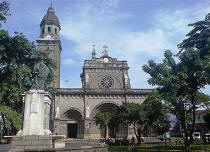 Within its walls are the centuries old Manila Cathedral and San Agustin Church & Museum. Also inside it's walls is Fort Santiago, a Spanish fortress and garrison -now a park. Located at the mouth of Pasig River, Intramuros was built to defend Manila from invaders. Today, inside the walled city are houses from the Spanish times that have survived. Some have been converted into cozy restaurants, museums, dormitories and souvenir shops.

Malacañang Palace -
The official residence of the president of Philippines. It also houses some government offices, the Malacañang Museum and the Presidential Museum. The palace is an 18th century villa along the Pasig river located in the center of Manila. It was purchased by the Spanish government in 1825 and has been renovated and expanded through the decades. Malacanang Palace was first used as the Spanish Governor-General's summer residence. In 1937 became the official residence of the Philippine President. Manuel L. Quezon was the first Filipino chief executive to live in Malacañang Palace.

At the center of Manila, every 9th of January is the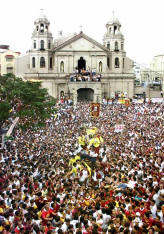 Feast of the Black Nazarene. Central to the feast is the largest procession in the country. A life-size, image of Jesus Christ, venerated through the centuries (made of Blackwood) is paraded through the streets of Quiapo District beside China Town. The mammoth procession is a daylong event. It is an occasion much anticipated by devotees and some tourist. So if you are uneasy with large crowds, avoid the area on that date, the traffic within the Quiapo area and beyond comes to a halt. But to the religious or the daring, it is a sight to behold.

Manila's nightlife is vibrant.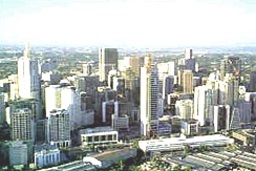 There are countless bars, restaurants, discos, Karaoke lounges, piano bars and cafés. For the bohemian, the Malate district would be an ideal place to hang out, for the more cosmopolitan and trendy, the Greenbelt and the Fort in Makati is the place to be or try Libis and Tomas Morato in Quezon City. There are also 3 casinos in Manila -if one is inclined to take a bet. The possibilities are endless, one just have to discover what Manila has to offer.

Places of Interest in Manila:
-China Town, Binondo
-Rizal Park
-The Walled City of Intramuros
-Fort Santiago
-Metropolitan Museum (Central Bank)
-Malacañang Palace Museum (open Mon-Fri 9am-3pm, Tel. # 733-3721)
-National Museum
-Cultural Center of the Philippines Complex (CCP)
-Manila Cathedral & San Agustin Church
-University of Santo Tomas Museum
-Casino Filipino (for those who enjoy the game of chance)
-San Sebastian Basilica - wholly made of steel, it's was the second building to be
made out of steel, next to the Eiffel Tower in Paris.

Manila Night Life:
-Malate District
-Bay walk, Roxas Boulevard
-Green Belt, Makati
-Jupiter St., Makati
-Embassy bar, Pier One, Jaipur at The Fort, Taguig
-Libis, Quezon City
-Tomas Morato, Quezon City