I was surfing the net the other day when I came across this:(pink font intended for Barbie)
I know Barbie is a great toy for young girls and those young at heart like me but he-llo?! a Barbie's friend Midge being pregnant is way too much! In my opinion, it teaches lil girls that being pregnant at a young age is just ok since Barbie's friend here is one. I mean look at that! Now my friend and I had a lil chat about this and it turned out that she bought one for herself. I was like OMG! Who would buy that crap? and she was like.... I did! hehe! here's a pic of her pregnant toy: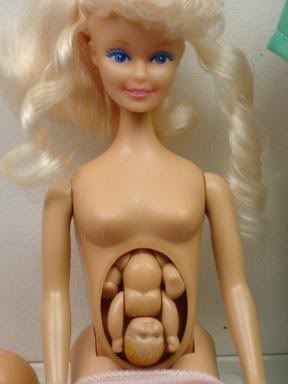 What a toy huh!?!
here's another pic of Midge: or is this the real Midge?! I am confused. You see the first pic has a ceasarian look and this has a seperate belly. which gets weirder and weirder.
Just look! I think this is the original Midge:


The baby in this Midge is magnetic and with clothes painted on him. And its an eptopic pregnancy hehe!
Yeah this is the original Midge alright. I like the first one more.Ugh!